TATA International Vehicle Application Private Limited is aligned to the TATA Group's core purpose of improving the quality of life of the communities it serves through long term stakeholders value creation.
TATA International Vehicle Application will focus its CSR Initiatives in localities surrounding its business operations especially in pune, Shrinagar ajmer and Jamshedpur taking concrete steps in broad areas of :
Skill development
Health, Safety & Environment.
Education.
In addition, the company will continue to voluntarily participate in environmental issues/national disasters depending upon where they occur and its own ability to respond meaningfully.
A snapshot of initiatives we have undertaken is given below.
Constructing a ladies toilet in Bhairavnath vidyalay , waki for girls safety.
Donating welding machine to govt Industrial training institute, khed in view of skill development.
Installing water purifier system in various school's hostels of Kehd taluka, Shrinagar ajmer etc. to provide safe drinking water
Installing security system (CCTV Camera/monitor/Accessories) in old age home at Khed pune to provide security.
Gallery
Distribution of grocery for migrant workers
Donated the oxygen concentrator to District Collector, Pune (M.H.)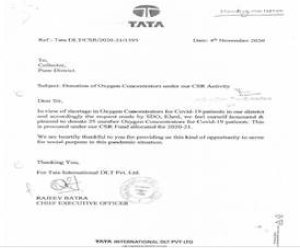 Safe drinking water - Donated RO water filter
Solar System for old age home (Sneh Vanprastha Ashram, Pune)
Sanitation work done at Ajmer and Pune